Project Name: Redesign a website
1.  Search online and find a 15 website. Pick up 5 as favorite ones. Pick 3 as the worst ones and the last 7 is remaining ones.
2.  Find one of the 7 remaining websites to analysis. 
3.  Personal brainstorm. make a site map and have a clear mind to think the idea for the picked website
4. First wireframes come out.
5. Make a user testing survey form and try to get more feedback.
6. Collect the data from survey and analysis it
7. Fix sitemap and wireframes basic on the user testing from feedback.
1. Search online and find out 15 websites and Analysis of the websites
Research 15 eCommerce sites (desktop, mobile or app) and list your favorite five websites. From favorite five websites, list three things they do well and three things they can improve. From the 10 remaining websites, list the worst three; one of these will be the site for my ongoing Project.
Purpose
This is the starting point of your Midterm Project. This research will provide you the site you will use for the project and the other sites will help with the audit, brainstorm, and ideas for making your project site better.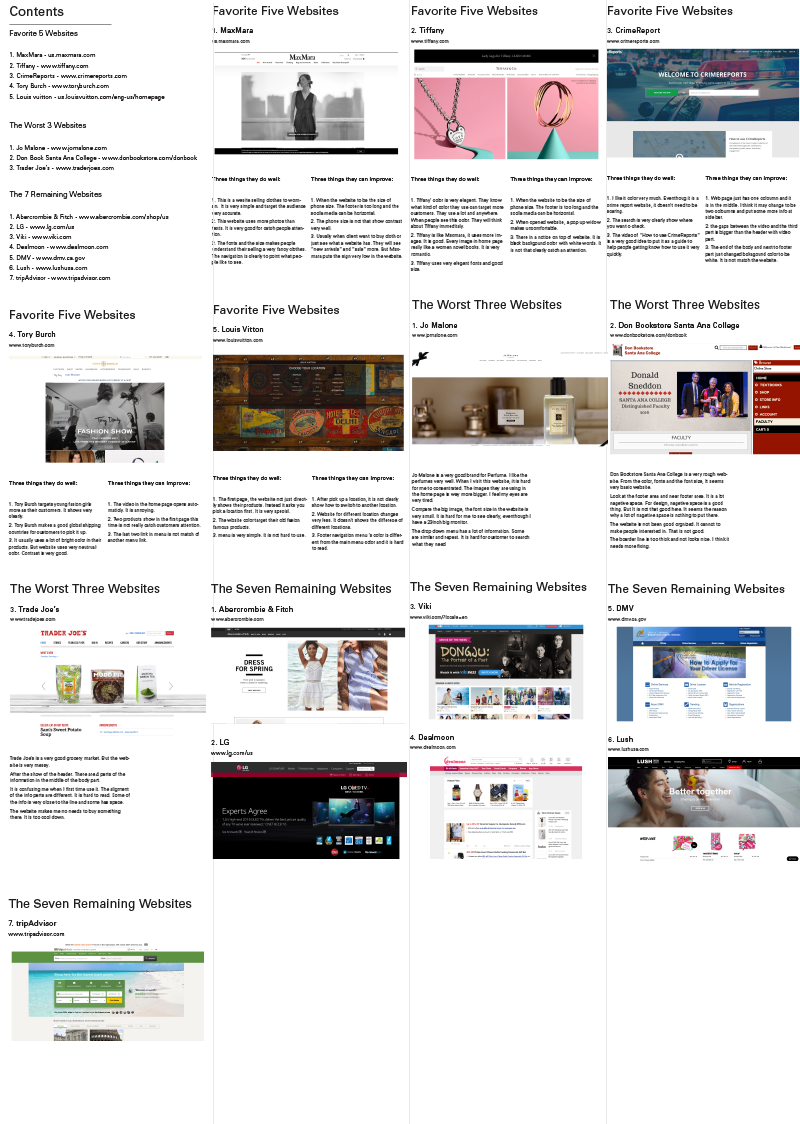 2. Pick a Website and Analysis
Based on Research, pick one website that you are going to redesign to improve the UX. Discuss in detail why I choose this site and post a link I plan to redesign. In addition, discuss whether I plan to bring new innovative ideas into the design or fix what is currently broken.
Purpose
This is a continuation from step 1, now the project must be refined to a specific page. From this point, I will decide if I want to radically change the way the page looks or refine the features to be more usable. Both have their challenges ultimately choose the option that I feel the most inspired to accomplish.
Link
Plan
After Review the website again. I plan to radically change the way of the page looks.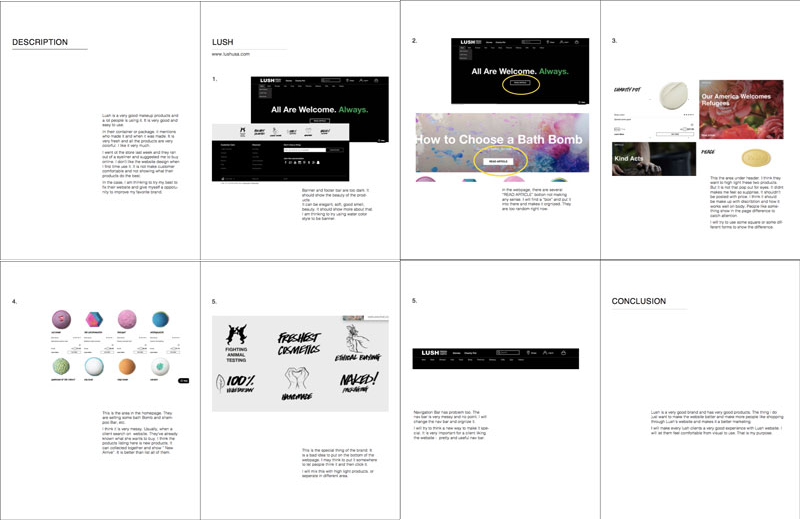 3. Use 10 Heuristics for User Interface Design principle rules to compare the website with the similar products company websites
Create a heuristic evaluation and a competitive audit for my site page; It should consider Heuristic Evaluation and Competitive Audits. I will use this evaluation and audit as a guide for my project. This will be my roadmap of areas to change on the site and their priorities to the end user. Write down to a one-page design brief describing the problem of the site page I are working on and how I propose to correct these issues. Within this document also describe the audience I am solving for.
Details
I pointed out the how the Lush website shows the 10 heuristics for user interface design principle rules and then combine the analysis of the LUSH website document I did before. After then I chose several similar brands of the websites to compare with LUSH Website and see what is the difference among them. Then I will know more about the advantage and disadvantage of LUSH website.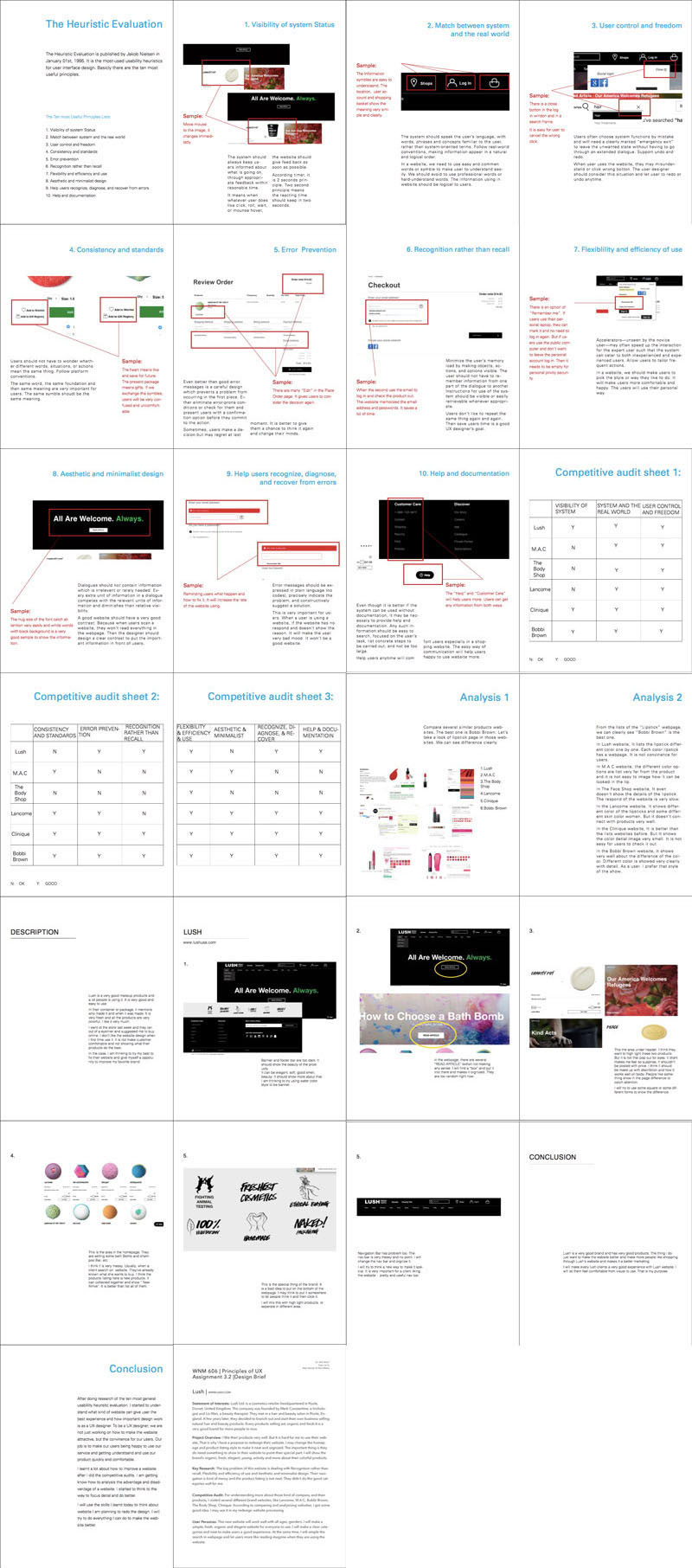 4. Brainstorming & Wireframes
Using one of the two brainstorming techniques ( Site Map & Dragon Line ) develop it for my project. I can do this individually. Describe which brainstorming technique(s) I used and have a screenshot showing my process.
Based on these brainstorming techniques and ideas from my peers, post the first round of schematics. (Feedback is not required at this time). Considered the styles of the website. I made two styles of homepage wireframes. One is a lot of information on one page and the other is less of information in the page.

For do the better job of redesign the LUSH website. I made a User Testing Form and want to get more feedback information from the user. I sent the link out and collected the feedbacks. After that, I will analysis the survey results and make another accurate report.
6. Collect the data from survey and analysis it
From the Survey, I noticed two things.
1. People don't like to answer the question need them to write something. It may because they do not care this survey like you. But if I can make the questions more answer with "YES" or "NO" or checkbox answer. They are more happy to do that.
2. It is better not put "MAYBE" option in the survey. People used to be a middle person even they are doing the survey and won't publish their names. 
POINT: 
1. Make questions to details and use "YES" and "NO" and checkbox answer more.
2. NO "MAYBE" answer option in any question. Change it to details with other short text underline below. In case someone is really want to say something.
7. Fix sitemap and wireframes basic on the user testing from feedback.
From the feedback from the survey. I analysis the user's' feedback information. I redid the sitemap and a wireframe.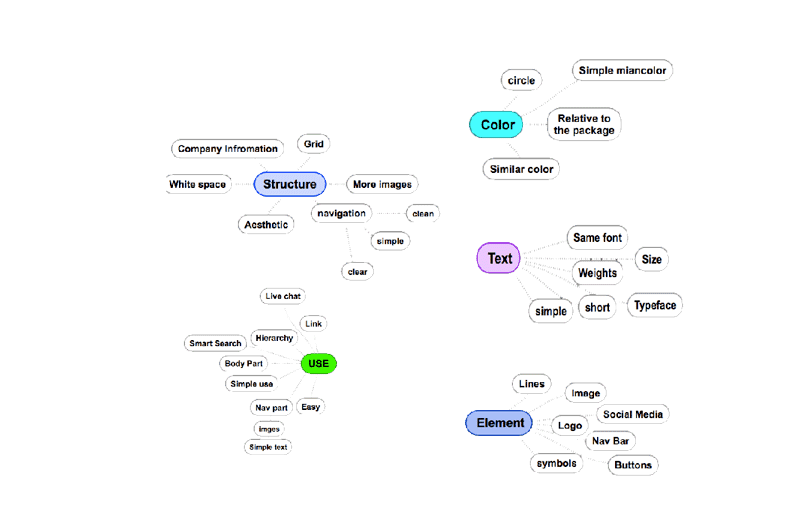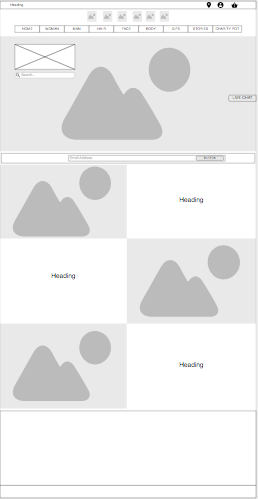 1. Lush first location pick up webpage is not necessary, It just needs to add a location drop down menu on the top bar then it is easy to pick the location.
2. Users love discount or Coupon information. I put the information on the top bar. It is easy to see.
3. I first try put the Lush special part up the navigation. It is will make users understand what the difference between Lush and another similar brands. 
4. I organized navigation bar. The feedback from Survey is navigation bar is hard to use. For simplizing it, I seperate the woman and man part and combined hair, face, body for commer use.
5. User like pop up image, I put an image there. But it can be replaced with video and another image. 
6. Search Engine is under Lush logo. Because Logo is big and easy to be noticed by users. Search Engine under it will be easy to found. At the same time, I made the search engine smart guide, like if you type your favorite smell, it will commendate you the products under the search bar. You just need to put from color, ingredian, user method and so on what you like of product. The search engine will list it for you. 
7. A live char bar will move with the webpage scroll. If the user has question, she can be easy to find one to help her immeditaly. 
8. Subscrib part is put under image to let users know they can get more information when the brand has event. But it is not pop out window to annoying user. 
9. The beauty customers are more female. They are care more about new products, popular products and sales. I separate to list them under. They can go into the web page to check it by click the text. But for convince them, I put the image with the arrows under to notice them that if they click the image, the list of the products will show under it. like some navigation bar tool. It will show like left side is a navigation and if move the mouse to navigation, it will show the recommendation product on right side for quick view.
10. Another important part is I changed black navigation color to be a dark green to close black. Because the products is very colorful and the black is too difference to make it boring looking and uncomfortable. The reason I didn't change the main color to be a very light color is I want to match their products spots color. I don't want to make too much difference between website and products package.
* Lush App design is awful too. But I choose to change website first. Because more people like shopping online with desktop and laptop from my survey feedback. Next step, I will redesign Lush Products webpage and checkout webpage.